We are honoured to be nominated for the Golden Hourglass 2022 with this project for Koos Service Design, in the category Legal Design!
Summary
Koos Service Design is a fast-growing strategic design agency founded in 2009, who believes that design is the answer to solve the complex challenges our society faces today. With a mission to inspire organizations and governments to accelerate positive change through INNOVATION. However, realizing that their own terms and conditions didn't reflect their innovative character, they reached out to Visual Contracts for help in improving them through intriguing and innovative Legal Design Thinking.
Challenge
To transform a strict terms and conditions contract that has been based on a model BNO template, into a contract that aligns with Koos's fun brand identity with understandable service design legal text for smoother negotiations.
Process
Being a business in innovation and service design it was important for the new design to fit Koos' content, format, tone of voice and personality which previously hasn't been reflected in their contracts. As an agency they were familiar with the design thinking process, so they understood the importance of deeply analyzing their situation, branding and user journey through a series of workshops organized by Visual Contracts. Making an overview of which content is needed where and formulating a contract goal with legal specialists such as Deepika Jeyakodi, Mirjam Ros and Dorrit Theunissen.
We looked into the way their current terms and conditions worked, analysing the challenges they faced. We realized that in negotiations Koos often experienced comments related to physical product design rather than the services they are offering due to the IP terms included in the BNO template. Hence the collaboration with Mirjam Ros and Deepika Jeyakodi was a great fit, as we used their innovation matrix approach to deal with IP and see in detail the possibilities this approach offers.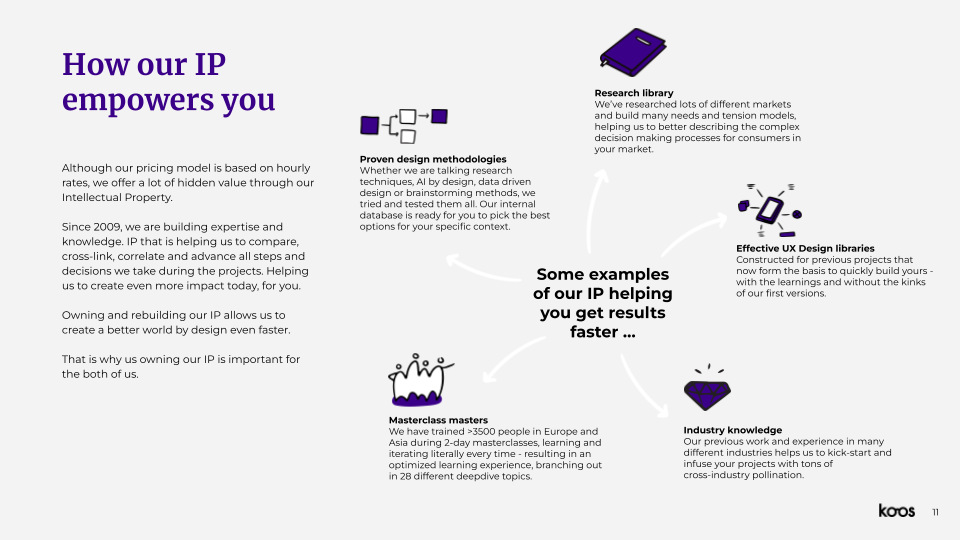 Then, working with Dorrit Theunissen, we were able to take all the brainstorm and strategy insights into account and draft proactive terms with plain language and visualization.
Overall, Lieke (founder Visual Contracts) facilitated the process and brought all perspectives together, Jules Prick and Kasper van der Knaap (Koos Service Design) discussed their needs and experiences, Mirjam Ros and Deepika Jeyakodi guided the IP strategy focus and Dorrit Theunissen the further legal base for their proactive terms and conditions.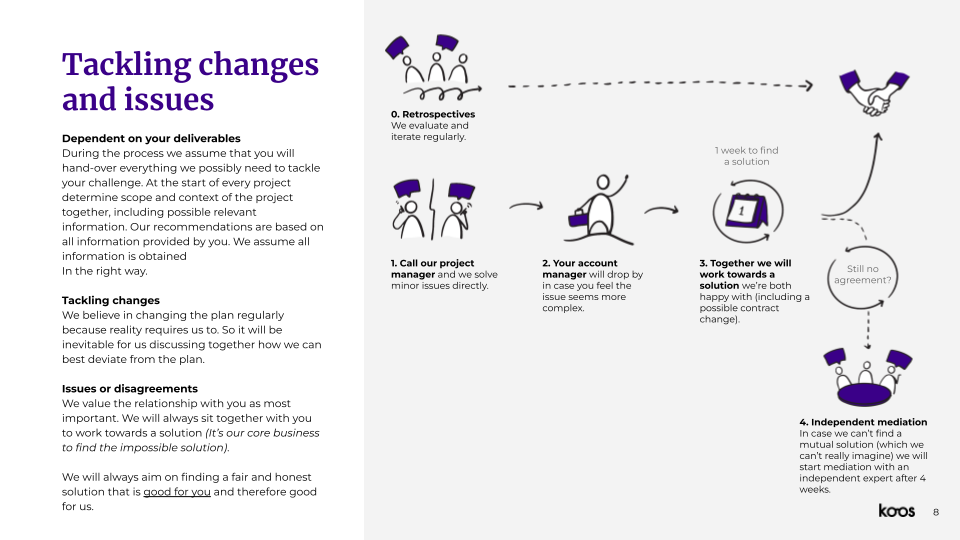 For the full terms and conditions, contact Koos Service Design or Visual Contracts.
Impact
Koos states that this process brought a lot of eye openers for the company in many fields, "opening doors in a strategic way" that helped them discover themselves on a deeper level. Most significantly in considering new perspectives of the value they bring to organizations through their user experience and methodologies in a fun and tangible manner for the users and their team. Implementing all these new insights into their new terms and agreements contract.
In fact, the experience was so enlightening that they aim to bring their visual contracts to their offices in Germany and Portugal while also going through the visual transformation process internally with employment contracts.
Results
Koos is very enthusiastic with the outcome of their new contract claiming that it has brought a new confidence to the company in "taking negotiations to their own comfortable space where it's visual and understandable". Their new conditions completely removed the intimidation of traditional and strict white paper documents and helped them to emphasize the important points of the contract in a simple manner.
Click Here to watch an interview with Jules Prick and Kasper van der Knaap from Koos sharing their experience;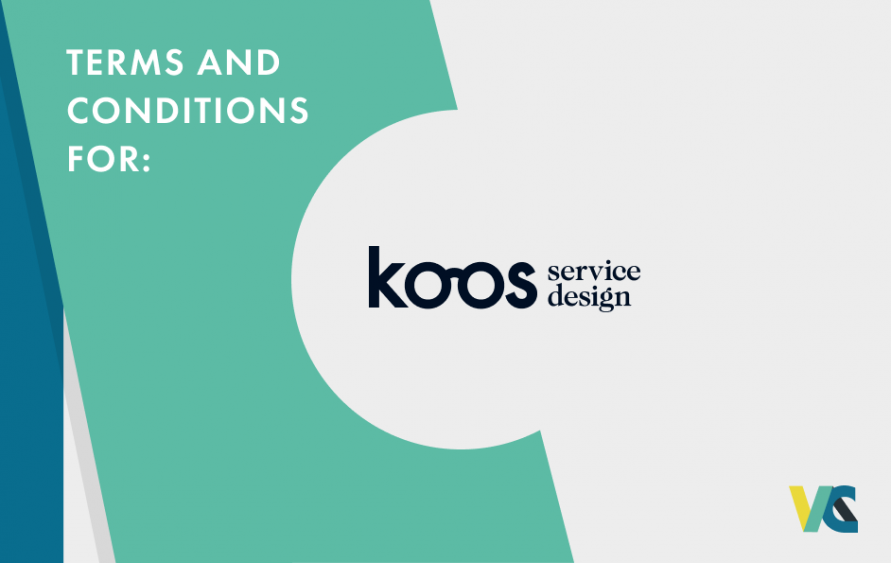 Video Interview Question Time Stamps:
Questions Time Stamps:
What was the problem you wanted to solve? ( 00:00 - 00:38 )
How did you experience the process? ( 00:38 - 01:39 )
How did the result help you and your team? ( 01:39 - 02:45 )
What about the future? ( 02:45 - 03:20 )