Join our one-day Design for Justice Lab
Visual Contracts is organising – together with a wonderful team – a one-day Legal Design Event at the Border Sessions Tech Culture Festival, the Design for Justice Lab. During the Lab, the participants will take part in a Legal Design journey, learn how to use Legal Design Thinking to improve their skills and are part of innovating the employment sector.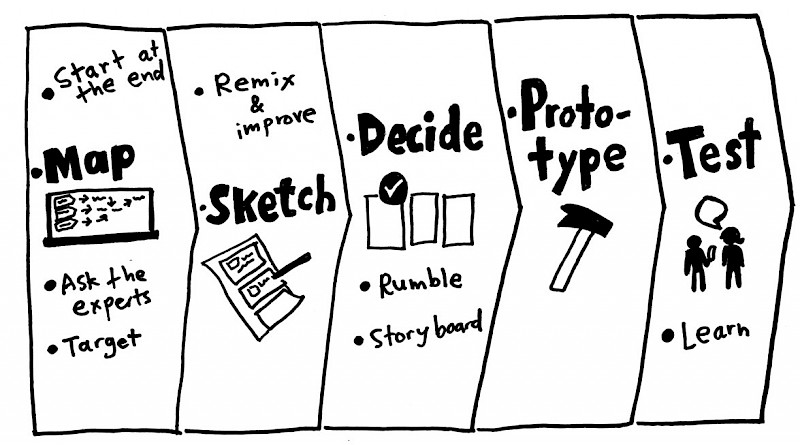 Are you interested in creating more fair and flexible employment contracts that address the needs of both employers and employees?
Currently, employment contracts are inflexible, which hurts both employers and employees and forces them to prioritise their needs. Our aim is to allow the parties to take ownership of their contracts, and to create a contracting environment, which is flexible, user-friendly, adaptable to the situation and mutually beneficial.
During the Lab we will experiment with Legal Design Thinking by using the Design Sprint Method to come in one day from mapping the problem to developing a prototype of the solution.
First of all we will start to explore the problem, participants will gather insights from people who have experienced problems in their employment (contracts). Then, we will use these insights to map the issue, to brainstorm about possible solutions, and to work out the most interesting ideas. The day will end with each team presenting their findings and ideas, followed by drinks and networking.
Do you want to improve your design thinking skills while also innovating the employment sector?
Join us at our Design for Justice Lab! If you already joining the Border Sessions Tech Culture Festival just register for our Legal Design Event. If you are not joining the festival yet, you first need to buy tickets to join Border Sessions, a four day Tech Culture Festival in the Hague to explore how technology can be a powerful instrument for positive change.
When?
On the 13th of June 2018, from 9:00 until 18:30.
Where?
TBA, keep an eye on this post and on the Lab's page on the Border Sessions websitethe Lab's page on the Border Sessions website.
The program:
09:00 – 9:30 Introduction to the topic and to legal design thinking
10:00 – 13:00 Insights gathering (user research, idea generation and strategic map)
13:00 – 14:00 Lunch
14:00 – 14:45 Presenting results and experiences
14:45 – 15:15 Visual mapping of insights
15:15 – 16:45 Working on most interesting ideas in separate groups
16:45 – 17:30 Presenting final concepts
17:30 – 18:30 Drinks!
We are organising this Lab in cooperation with a great team of experts in Design, Legal, Tech and Entrepreneurship